Your HVAC Company in Lexington, NC
Do you need A/C repairs, heating repairs, or HVAC maintenance today? If so, our Lexington HVAC company is here to offer you service. We have been the local HVAC company of choice since 2011 for expert residential and commercial services. We offer reliable, prompt service from experienced technicians who will treat you right.
Our heating and air conditioning contractors work on all types of heating and cooling systems including central air units, split-systems, gas furnaces, heat pumps, and rooftop units. You can depend on our Lexington HVAC company for service today.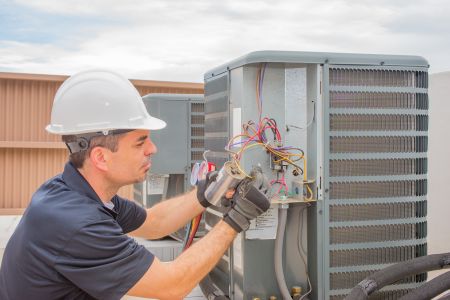 Prompt, Reliable Repairs Service
Free Estimates
Complete HVAC Replacements
Expert Workmanship
24/7 Emergency Heating & A/C Repairs
Getting air conditioning or heating repairs on an emergency basis isn't hard when you put your trust in our Lexington HVAC company. One of the benefits you will enjoy by choosing our Lexington HVAC company is access to same day appointments.
In addition to providing quality heating and A/C repairs during our standard operating hours, we provide 24/7 emergency service to local home and business owners. When you call us for emergency repairs, we'll send a licensed and experienced HVAC contractor to troubleshoot and repair your equipment.
Commercial HVAC Services In Lexington
Your Lexington business depends on the building's HVAC system to keep the environment comfortably cool in the summer and warm in the winter. When the equipment isn't functioning right or can't keep the building comfortable, it's worth calling a commercial HVAC company who can send an experienced technician to troubleshoot the problem.
Elite Air Systems LLC is your local commercial HVAC expert. We've been a reliable service provider to local businesses in the Lexington area for over 11 years. Our team is ready to assist you no matter what type of problem you are having or what type of heating and cooling system you own.
Heating & Air Conditioning Maintenance
The biggest mistake you can make with your heating and air conditioning equipment is to neglect the maintenance. While some people think it's a bit frivolous to get regular maintenance, the maintenance truly makes a big difference in how long the heating and cooling system lasts. Preparing your equipment to work hard all season also makes a big difference in how reliable it is.
If you've been a little forgetful about getting your equipment maintained, call our heating and air conditioning company for service today. Even with just a seasonal tune-up, you'll enjoy the many benefits maintenance provides.
Recent Articles
The Importance Of Commercial Air Conditioning Maintenance
There are few things High Point business owners and their clients love as much as their cooling system. Once that summer heat reaches its peak, the only thing you want to do is seek out the nearest i […]
4 Tips To Keep Your Lexington Home Energy Efficient
As energy costs rise in Lexington, NC and across the U.S., everyone's looking for ways to improve the energy-efficiency of their home. If you're looking for tips on how to keep your Lexington home en […]